More about Spectropia and her world. Spectropia, a live mix feature film performance, will be presented at the Kitchen, NYC, Dec. 9, 10, 11, 2010. Buy Tickets. Click here or on the sidebar for The Spectropia Suite, original soundtrack to the film Spectropia, composed by Elliott Sharp. Featuring  the Spectropia song "This Time, That Place" with vocals by Debbie Harry.
I'd like to introduce introduce you to the Duck and his clients and take you a trip through the looking glass into the future. Next time we'll investigate the past, or something that seems like a parallel vision of the past – but first: Episode #1 of the desktop version of Spectropia. It's 9 minutes in another world and you don't have to leave your chair, so enjoy the ride…and then come to the show!

Spectropia (Aleksa Palladino) lives with the Duck (Simon Jones).  The Duck was programmed by her father, who vanished in time, to act in loco parentis – a babysitter bot.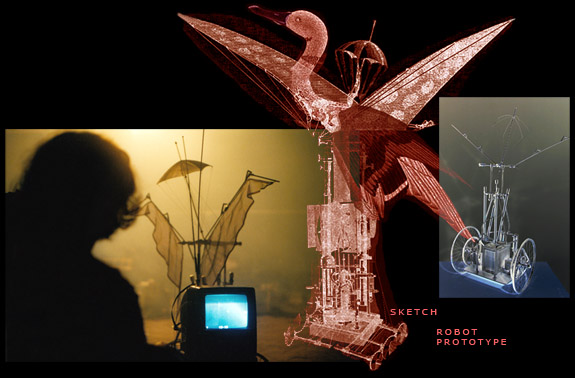 The Duck is part actual wireless robot shot on location with video special effects added in post. He is based on Vaucanson's famous 18th century duck automaton and looks like a cross between an old fashioned child's windup toy and a high tech robot/cyborg.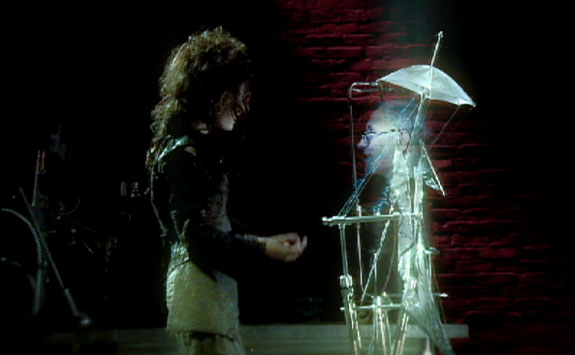 He has a big personality, somewhat conservative. He's worried about Spectropia – he feels she's isolated and repeating her father's life, repeating his obsessions. He's right. It's a dilemma. The Duck is a garbage collector. He runs a black market business in retro objects. It's their main means of support, lucrative in a culture where saving is foridden and there's no recorded history.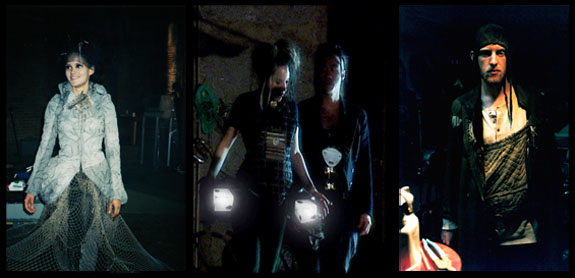 His clients are the upper class and street people who dress in elaborate costumes reminiscent of the 18th century mixed with modern leather and pierced skin (Macaroni hairdos, white face paint, pigment patches). They are purchasing rare memorabilia. The Duck's clients: Onahoua Rodriguez, Kerry Lea, Tim Kang, Andrew McGinn.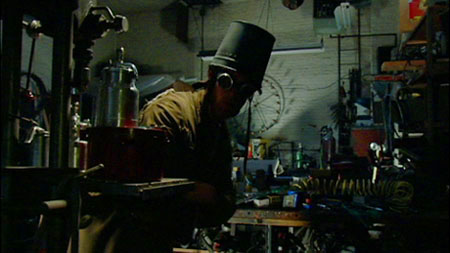 The Duck inhabits a vast hive of barter and salvage, a blackmarket subculture of consumption that literally floats on islands of garbage: The Informal Sector.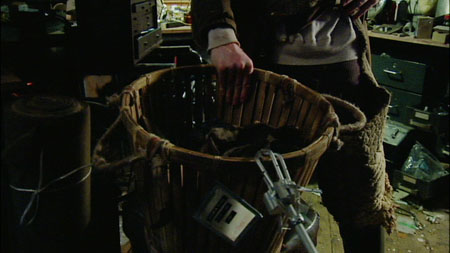 Next time we'll fall down a different rabbit hole – maybe a worm hole – and into another person in another time. Come back and visit again.

Cinematography for the future of Spectropia by Michael Barrow. Set photography and production design by Sonya Gropman. Thanks to David Lorig, Kelly Phillips, George Pawl, Todd Ingalls and the team at the Institute for Studies in the Arts under Richard Loveless at Arizona State University for building the Duck and Spectropia's machine and for protoyping the project during a two year fellowship.