More about Spectropia and the performance event. Spectropia, a live mix feature film performance, will be presented at the Kitchen, NYC, Dec. 9, 10, 11, 2010. Buy Tickets. Click here or on the sidebar for The Spectropia Suite, original soundtrack to the film Spectropia, composed by Elliott Sharp. Featuring the Spectropia song "This Time, That Place" with vocals by Debbie Harry. Hope to see you all at the show!
Spectropia came out of a desire to take a movie apart like a pocketwatch and explore and reassemble the parts to learn something about cinematic language. My father, an artist, told me that when he was in the army he learned how to take apart and clean his gun by drawing all the separate pieces and then drawing them back together again. Spectropia is dedicated to him.It runs using a proprietary software program written by R. Luke DuBois in Max, MSP and Jitter (Cycling '74). Luke and I perform the piece from laptops and a customized stage instrument created by Bill Ballou, technical director for REDCAT, and Leif Krinkle, technical director for Bustlelamp and our robotics and electronics engineer.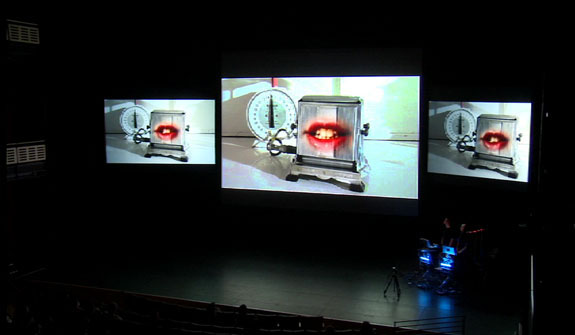 The concept evolved from embodied interface and interactive narrative design I've been developing for almost two decades. The interface that scrubs and navigates up to 6 streams of video simultaneously, uses video motion sensing. When you see us waving our arms around looking like conductors, we're actually moving the video – changing direction, speed, changing clips and altering sound in real time. Performing it's like swimming through the movie – you can feel your body in the images on the screen. We haunt the movie.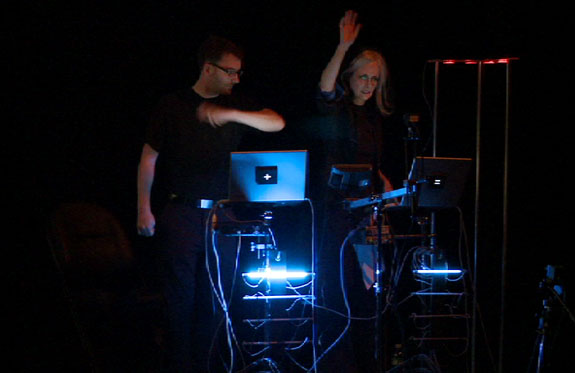 The performance is framed by a chorus – a meta view – made up of the characters Sally (Helen Pickett) and William (Richard Bekins). Merging sophisticated cutting edge programming and witty repartee – these digital puppets produce an experience that is both humorous and uncanny. Sally is based on the real life fan and bubble dancer Sally Rand. The characters use text to speech to synch a video puppet to a synthetic voice typed in real time.

Sally and William form a chorus that frames the live mix movie narrative, sometimes speaking in pre-scripted dialogue and sometimes improvising and commenting to the audience.
R. Luke DuBois is a composer, artist, performer and software designer who has collaborated with Bustlelamp Productions for 10 years. In his own work he explores the complexities of time in sound and image – he is pushing some boundaries that have only recently shown up on the map. And he's really good company.Luke is co-author of Jitter software by Cycling '74.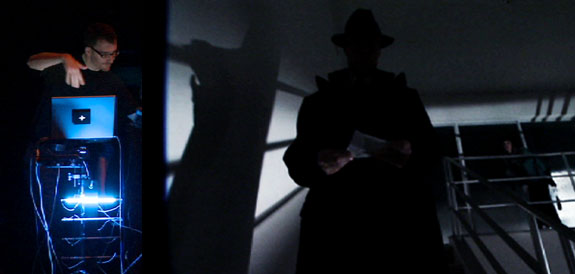 His remarkable talents are a significant part of the comprehensive narrative software system that has become our toolkit. Look for it in the upcoming production Lucid Possession.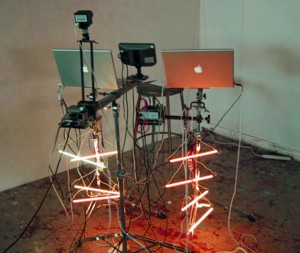 Stay tuned here for upcoming posts on Lucid Possession