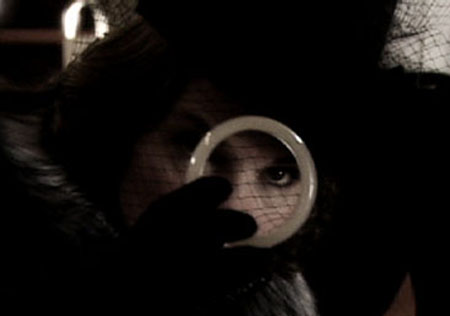 More about Spectropia and the past…or is it? Spectropia, a live mix feature film performance, will be presented at the Kitchen, NYC, Dec. 9, 10, 11, 2010. Buy Tickets. Click here or on the sidebar for The Spectropia Suite, original soundtrack to the film Spectropia, composed by Elliott Sharp. Featuring  the Spectropia song "This Time, That Place" with vocals by Debbie Harry.
Now we'll meet Verna and take a trip into the past as Spectropia finds herself in another woman's body. Next time we'll talk about the performers inhabiting the bodies of characters, who are inhabiting each other, in a story within a story. Worlds within worlds. But first: Episode #2 of the desktop version of Spectropia. It's 9 minutes in another world and you don't have to leave your chair, so enjoy the ride…and then come to the show!
In 1931 Spectropia finds herself in the body of Verna, played by Carolyn McCormick. The experience is an odd one. The body has unfamiliar memories and sensations. It seems to have feelings unconnected to those produced by her own mind.  It's a schizophrenic experience. (1931 cinematography by Scott H. Ramsey)

The world of 1931 is unfamiliar in many ways as well – the strangeness is exacerbated by a certain ignorance.  The study of history is illegal in her time, so information isn't easy to come by. When she is navigating through 1931, there are alot of pitfalls and confusions that come up around appliances, clothing, makeup and the technologies of the time. Also food, social behaviors and attitudes.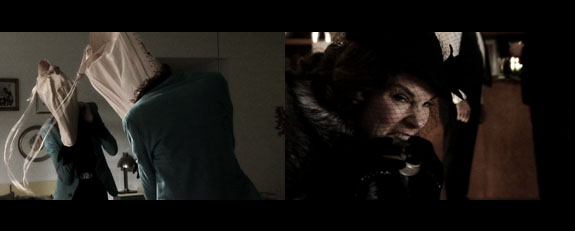 Objects in the room speak to her in an animate way, as in her simulations, but subtler, perhaps, and more sophisticated.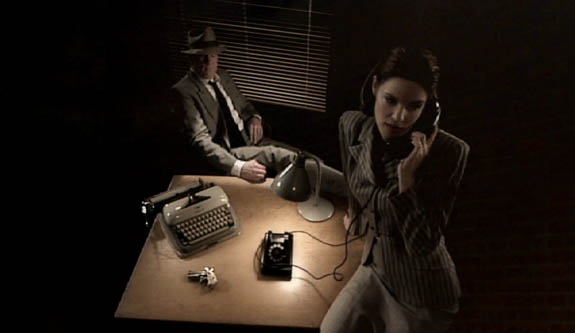 Verna's desire is to kick Spectropia out of her body and send her back to the future.  Also to get William (played by Richard Bekins) out of his latest scrape and…to get him away from Spectropia, who's beginning to confuse him – and herself.  Neophytes at romance are dangerous. (Typewriter played by Rocco Sisto)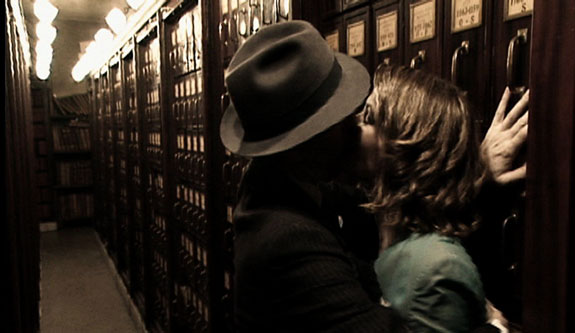 Basically what we have here is a triangle with two women in one body fighting over a man neither of them want in the end. It's a feeling I think a lot of us have had: male and female. Do we ever really know the people we love? Sometimes they're aliens.

William wants Verna to take him seriously – he wants to take himself seriously. It seems like a steep hill. William and Verna seem to be a good match – she manages him well.  But when there's a strong force in a relationship it tends to move in one direction only.  It disrupts the dance.  Someone is always moving forward and someone is always backing up. Pretty soon somebody's going to fall over…