Bustlelamp Productions Lab had a great time recently visiting with Flora Lichtman from NPR's Science Friday. A video from the visit is online on the Science Friday site and you can listen to the radio show from Feb 15, 2013.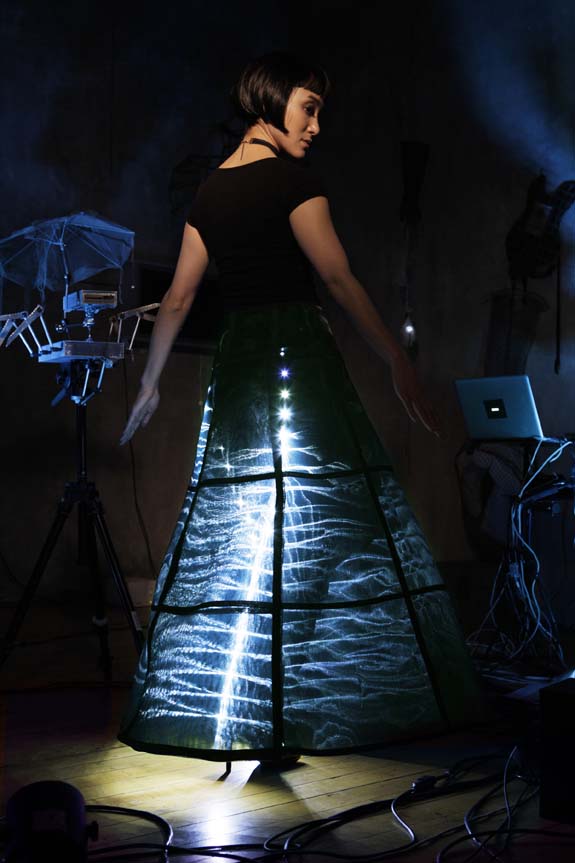 Performance skirt worn by Hai-Ting Chinn                                         photo: Melissa O'Brien
Bustlelamp is preparing to launch Toni Dove's Lucid Possession, our new live mix cinema music performance. We'll be going to Virginia Tech in March to do 5 preview performances March 16-19 2013. Come and see us if you're in the area. We will also be Premiering in NYC at Roulette in Brooklyn April 25, 26 and 27. Co-produced by Issue Project Room, HERE and Roulette. If you're in the NY area come and see us there. We're very excited about the show. Performers: Hai-Ting Chinn, Toni Dove, Todd Reynolds (musical direction), tech direction by Ed Bear and Matt Tennie, co-director of staging Bob McGrath, songs composed by Elliott Sharp, software design R. Luke DuBois.
Say hello to the petbot. A virtual robot that responds to a human voice (vo by Simon Jones) and to Toni's movement onstage via video motion sensing – this version is a straight animation as it is interactive in performance. We also have video characters with human faces that lip synch to a performer's voice using vocal analysis to trigger video visemes – small video loops that represent all the phonemes of speech. They learn to recognize a performer's voice and get better at doing it the more you use them. Luke says they're dumb neural nets – they're smart, but not very. Look at the last work in progress video on the Lucid Possession site to see Bean's Avatar in action.
The costumes for Lucid were created with costume designer Karen Young and the LED savvy of Leif Krinkle. It's just the beginning. We will be creating new characters – each with their own costume that manifests personality using LEDs and robotic movement. They will appear in upcoming episodes from the Lucid story world. We're chewing on how to make it available to you. Maybe an App?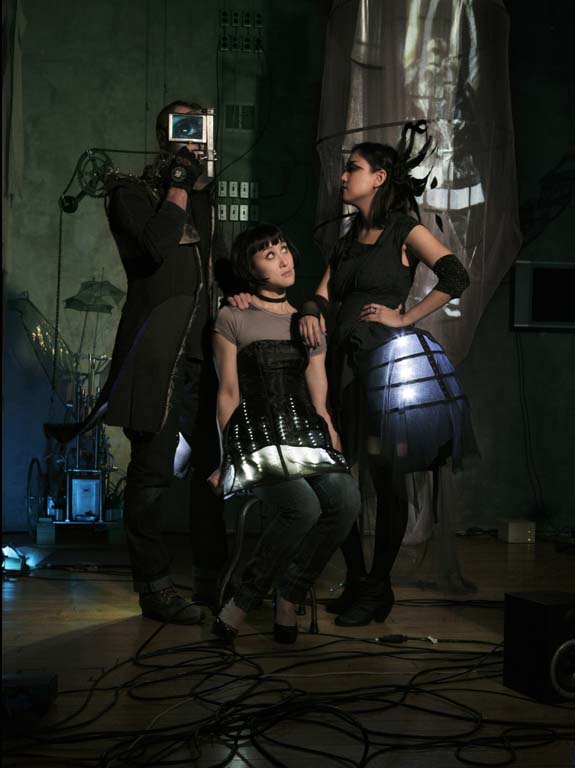 Hai-Ting Chinn and supporting cast Andrew Schneider and Bora Yoon.  photo: Melissa O'Brien
Bean, our heroine (played by Hai-Ting Chinn), is an artist who designs virtual personalities. She  is plagued by ghosts. Her mind is like a live Twitter feed that "picks up people"…but without technology. People stop her on the street. They want something, and she isn't sure what it is. The anxiety exponentially increases her paranormal sensitivities, and a ghost from the past emerges from the noise…here's a video scene from Lucid Possession.
The show combines cinema with live music, robotic screens and video motion animated in real time!  Below, Ed Bear, one of our engineers, is working on the robotics of a three-dimensional projection screen at the Bustlelamp lab. Leif Krinkle and Karen Young complete the design and fabrication team.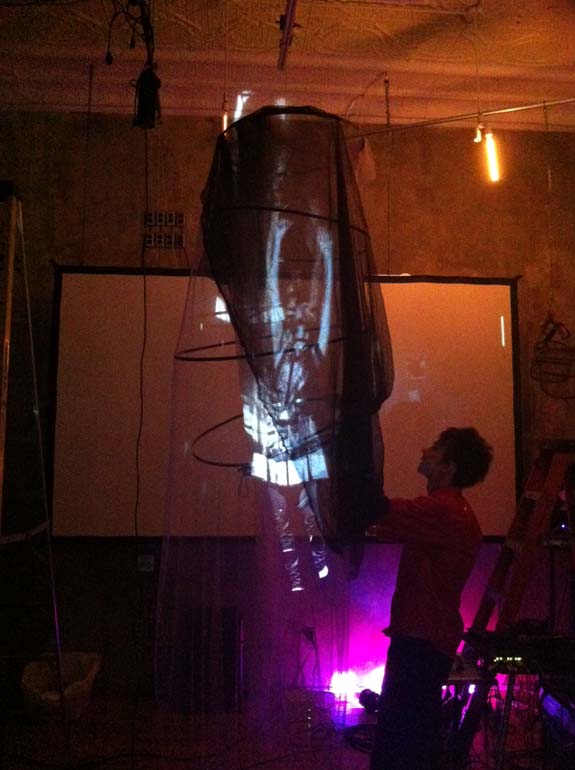 Below is another screen – a box in which Bean sleeps. It rises from the floor using a computer-controlled motor system. Everything is controlled by networked laptops onstage and triggered by motion, sound or keyboard and iPad commands. The performance is part improvisation, part automation.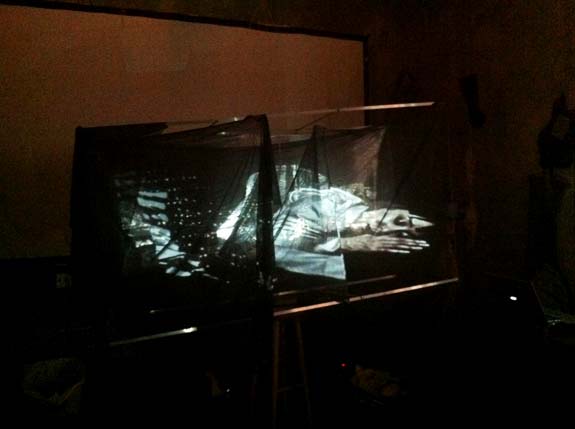 Bean sleeps in the net – recharging her battery. Simultaneous multiple realities. Lucid Possession plays with our continual navigations of the real and the virtual. We all live an Augmented Reality, one much more subtle and complex than current AR technology.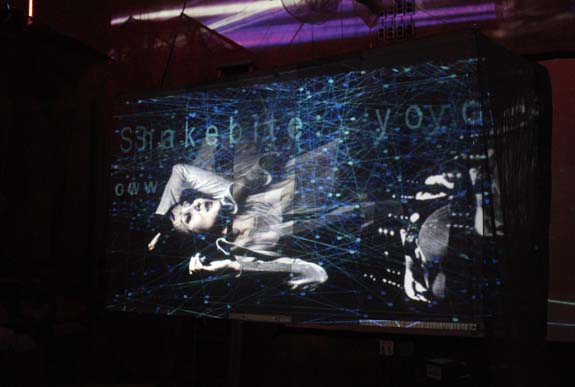 The ghost screen has robotics that close up like an umbrella, open, shake and allow the screen to be controlled by video motion sensing onstage by Toni or with an iPad  by Matt Tennie, a technical director at Bustlelamp,. Multiple image loops projected onto the screen are controlled with motion sensing. The idea is to make the dimensional characters seem to breath and become animate.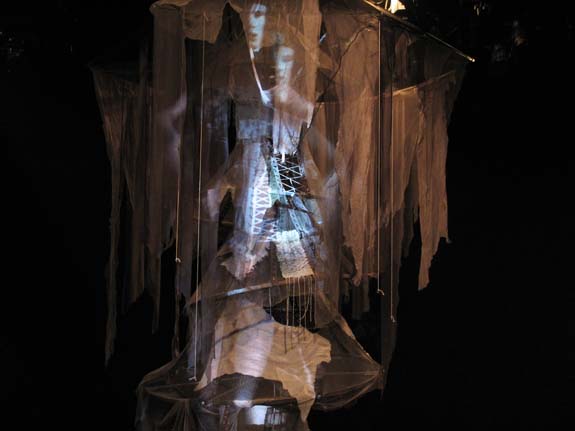 Here's a corner of the Bustlelamp Lab that became part of the set for the Lucid Possession shoot. We like it so we work in it this way. Another form of AR?