"The Dress That Eats Souls" is close to completion. You saw some of its evolution in the last post – and it's been evolving and growing. It will premiere in a survey exhibition of 20 years of my interactive cinema work "Toni Dove: Embodied Machines" curated by Matthew McLendon at the Ringling Museum in Sarasota Florida from February 25 to May 20, 2018. There will be an exhibition catalogue available.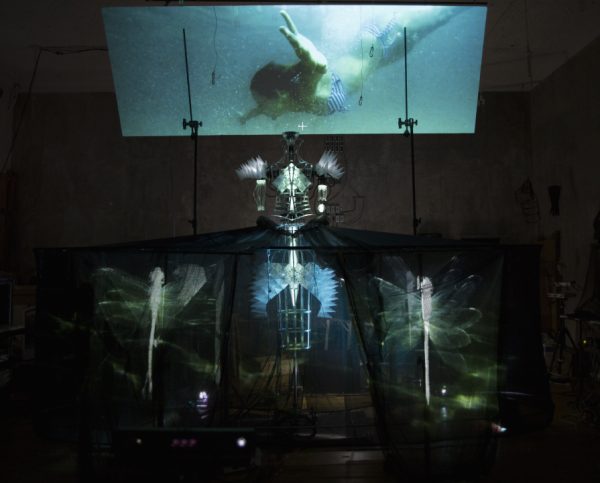 Experiencing the POV a someone wearing the dress in the 1950s
"The Dress That Eats Souls" is a complex interactive matrix that uses the Kinect gaming interface to track a viewer's head and body movement. The Kinect, recently discontinued, has a sophisticated camera tracking system that combine video tracking with infrared to create X,Y and Z space – or a video tracking field of 2 dimensions with an infrared sensor that adds depth. It does she pretty interesting things – I think its subversive re-use by the creative tech community has far outstripped the use Microsoft had for it. Very sorry to see it go, but many similar camera systems are surfacing. More on that another time.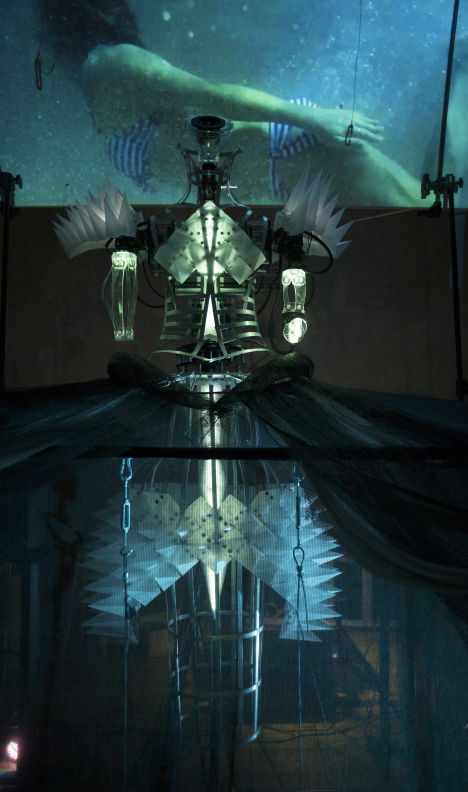 This piece was fascinating to make – an R&D process working with students and a wonderful team of technologists. Some adventures experimenting with 3D printing and vinyl cutting, robotics, programmable LEDs, and cinemascope raw video shot with the 5D III using Magic Lantern that is responsive  in the installation to a viewers head movement. The robot uses skeleton and head tracking to mirror a viewer's body movement and alter media. The experience is almost like being lifted up into a movie. A viewer's body and head are connected to the piece through movement and it feels as if you're both inside it and looking out – as if wearing the dress.
Voiceovers  representing different characters take you through time to form a narrative that traces the human body's interactions with technology. Choosing a dress as the form for the installation came about as I was thinking about technology's most intimate interfaces with the human body and clothing seemed like a logical place to start.  It was also a response to the current explosion of wearable technologies that I find both enhancing and colonizing in a disturbing mix.  I collaborated with the novelist Rene Steinke on the text for voices. It was a fascinating process of exchange. I began by creating extensive timelines of human invention, technological and cultural events and disasters. Then broke it down into a series of 10 decades from the 1900s to far into the future. Each decade has 3 versions: dark, neutral or technology driven, and light. Rene used the alchemy of her inventive mind to create the details of who these people could have been. The text is a sequence of interior monologues over time tracing our relationship to technology and perhaps how we lag behind the inventions in our comprehension of their impact, both ecstatic and ominous.  I think of the piece as the wreck of the ship of progress. A cautionary tale – but not without seductions and pleasures.
Here are stills from the 5 videos a viewer  navigates with head movement to experience the POV of someone in 1918. A woman in a rocking chair talks about an iron brace that reshapes her spine. She connects with a soldier who has had part of his face blown off in WWI.
From the age of six, I was strapped in a metal corset to fix the curvature of the spine. My mother and my nurse carried me, my dear friends tried to lift me by summoning the spirits…and I heard Fred talking to me: "The mind grows just as the body grows, you know that? But how do you show that in a metal face? Half my face blown to bits. Who knows where my eye landed in that forest? We were running. I saw my blood splattered on the dead brown leaves…thought I was a-goner. I woke up on a stretcher and later they gave me this face. It looks more like my brother's face than mine. He died in the Marne.
Links to preview articles about the exhibition:
My talented team of collaborators:
Tommy Martinez is the software designer, Paul Geluso designed spatialize sound using a unique binaural broadcast speaker system, Medianoise did sound design,original music for the 1960s and 180s by Elliott Sharp. Brooklyn Research created the responsive robotics, Andrew Dintenfass (of early Stevie Nicks and Pointer Sisters music video cinematography) was the Director of Photography, Karen Young, scrim design, LED design by Smooth Technology.
Stay tuned for more teasers from the exhibition.