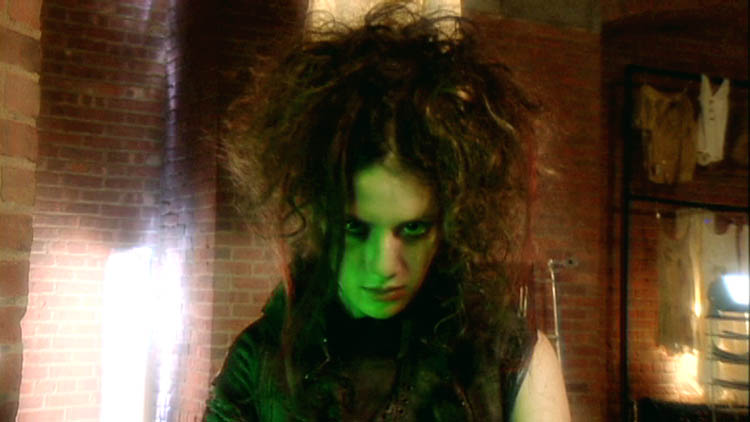 SPECTROPIA
TONI DOVE Live Mix cinema performance SPECTROPIA
The New York-based artist Toni Dove produces unique, highly imaginative, embodied hybrids of film, installation art and experimental theater. In her work, performers and participants interact with an unfolding narrative, using interface technologies such as motion sensing and laser harp to perform on-screen avatars.
A culmination of these multimedia explorations, Spectropia is a cinema-scale live-mix movie performance event form that is part video game, part feature film and part VJ mashing. At its heart is a scratchable movie, richly beautiful and exhilarating in its own right, performed by improvising DJs who actively play it like an instrument. Throughout, the audience is aware of the mutable, improvisational nature of the experience, as well as the responsive architecture at work, while remaining engaged with Spectropia narrative thread. They are allowed to see through characters eyes, hear their interior thoughts, and even talk with them via Dove and her co-performer, R. Luke DuBois in a post show Q&A.
Spectropia boasts a singularly diverse lineup of artists. The film cast features the actress Aleksa Palladino (Sidney Lumet Before the Devil Knows You're Dead and Finds Me Guilty; Todd Solondz Storytelling) as Spectropia and Helen Pickett (recently with the Forsythe Ballet of Frankfurt and The Wooster Group) as Sally. Elliott Sharp composed the original score. Debbie Harry sings the vocals on the song This Time, That Place. The artist Perry Hoberman contributed to the set design for Spectropia studio with an interactive installation of used computer equipment. R. Luke DuBois, co-author of the Jitter software suite for real time manipulation of matrix data, is the project software designer.
In the presentation, a seated audience faces a large central screen, flanked by two smaller screens. To the side of the stage two player/performers stand at a stage instrument that uses video motion sensing and a light-and-laser harp to interact with the media of the piece. Through movement and speech the players navigate through the movie almost as if it were a three-dimensional architectural space, triggering digital video segments that are delivered dynamically from laptop computers to projectors.
Spectropia is a hybrid of sci-fi and film noir, with elements of time travel and telepathy. The story opens in the future where Spectropia, a young woman in her twenties, lives in the salvage district of an urban center known as the Informal Sector. It's a black market subculture of salvage and barter where knowledge spans only a person experience and recorded history is forbidden. This culture of consumption floats on islands of garbage; saving anything is punishable by law. Spectropia is addicted to the illegal activity of collecting artifacts from the past. Her companion, a cyborg creature called the Duck, (part human and part wireless robot) runs a black market business in retro objects for their livelihood. The Duck is a babysitter bot, in loco parentis, programmed by Spectropia's father, who disappeared in time while searching for a lost inheritance. Using a machine of her own invention to search the past for her father, she discovers William, a man from 1931 New York City after the Great Crash. Spectropia is accidentally transported to NYC in 1931 when her machine short circuits and she finds herself in the body of another woman, Verna de Mott, an amateur sleuth. A mystery and a romantic triangle unfold across centuries as two women in one body drive one man crazy.