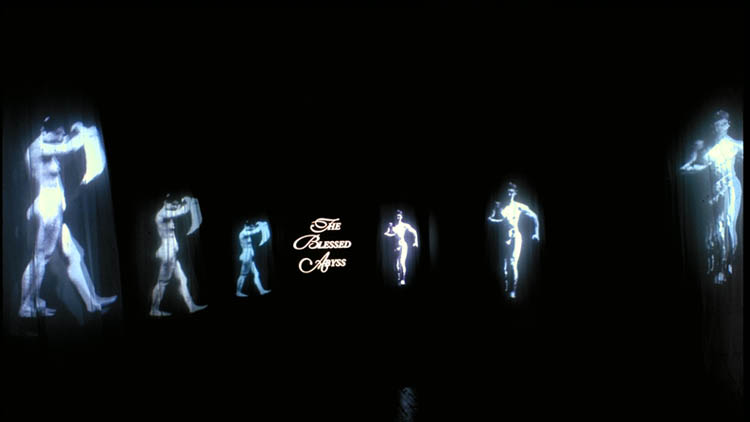 THE BLESSED ABYSS: A TALE OF UNMANAGEABLE ECSTASIES
Debuted at the Whitney Museum at Phillip Morris, 1992, as part of a series co-curated by Toni Dove with Helen Thorington of New American Radio and Jeanette Vuocolo of the Whitney Phillip Morris Performance series. Entitled "Performing Bodies and Smart Machines", the series dealt with issues of the body and technology across a number of disciplines. The piece was exhibited at The Thread Waxing Space in Soho as an installation, part of the festival "Techstasy", and at The Franklin Furnace series at The New School on March 12, 1993.
Society governs us, and in this process it contains and describes our drives and passions. Such rigid prescriptions are bound to be ill-fitting, as if desire were laid out in carefully squared off and neatly mown lawns. But it spills over, leaches out through the walls and floods past its containers in the form of excess. This piece is about those excesses – about private voices and public ecstasy and the material manifestations of the human desire for transcendence. It is about the transgressive power of eroticism. Using a variety of texts which include Persian poetry from 598 A.H.; Sappho, a Greek poet; a doctor's text from the 19th century United States; a synthesis of the writings of St. Catherine of Sienna, a medieval religious mystic; as well as my own text and a story co-written with Judy Nylon, I have created an environment of sound and projected animated images which usher you into a world of ecstasy, irony and perversity.
The piece is created using 15 computer programmed slide projectors, video projection on multiple three dimensional net scrims and eight tracks of pre-recorded sound.