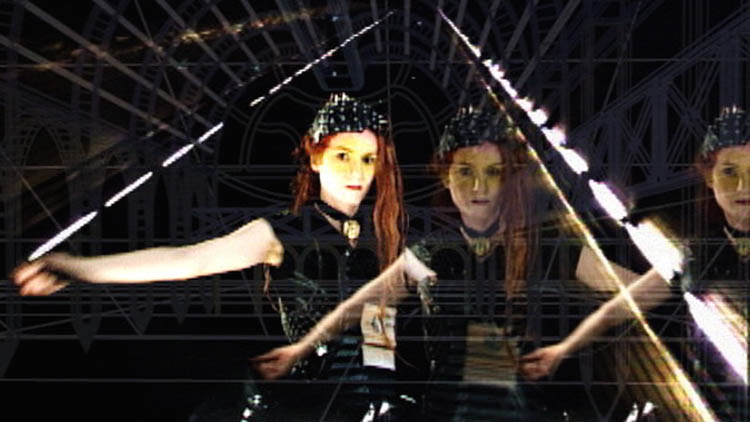 ARTIFICIAL CHANGELINGS
'Toni Dove is one of the few artists to move beyond a simple explication of the interface, altering the viewer relationship to her work while advancing new concepts in cinematic genre and narrative.'
Bill Jones, Artbyte
Artificial Changelings is an interactive narrative installation that uses motion sensing to track the location and movements of a viewer standing in front of a dimensional rear projection screen. A romance thriller about shopping, this interactive movie follows the life of Arathusa, a kleptomaniac in 19th century Paris during the rise of the department store, who is dreaming about Zilith, an encryption hacker in the future with a mission. Artificial Changelings is a unique statement on how consumer economy, from the Industrial revolution to the present, shapes identity.
Artificial Changelings is programmed in 30 minute shows that repeat throughout each day of exhibition. Each 30 minute show has certain similarities and many differences: the same clips may not repeat, and viewer navigation through the three zones (accessed through the floorpads) and by physical motion will vary the character's behavior, the viewpoint of each scene and the century of the story. In Artificial Changelings the video motion sensing system allows the viewer a Theramin-like control over sound and image. The viewer feels the subtle tugs of connection to the movie through its response to their actions – as if they are "stuck" to the character – the viewer haunts the movie as traces of their movement appear in the character on the screen.
Artificial Changelings debuted in '98 at the Rotterdam Film Festival. It was part of the exhibition Body Mecanique at the Wexner Center for the Arts, was a solo exhibition in 2000 at the Institute for Studies in the Arts at Arizona State University in conjunction with the International Performance Studies Conference and was in the exhibition "Wired" at the Arts Center for the Capital Region in Troy New York, 2000.
It was funded by grants from New York State Council on the Arts; New York Foundation for the Arts; The National Endowment for the Arts; Harvestworks, Inc.; Art Matters, Inc.; and the Eugene McDermott Award, M.I.T.